Shopping Cart
Your Cart is Empty
There was an error with PayPal
Click here to try again
Thank you for your business!
You should be receiving an order confirmation from Paypal shortly.
Exit Shopping Cart
SMALL BUSINESS MANAGEMENT AND FINANCE CONSULTING

This is #2 in my series of Blogs on #Alzheimer'sDisease (AD). This has been a medical interest of mine since 1990.
This article, written by Megan Brooks, appeared recently in Medscape - Dec 19, 2017: No Magic Bullet to Prevent Late-Life Dementia.
Some points of note from my perspective:
"We looked at drugs...over-the-counter vitamins, supplements...exercise..cognitive training. And overall, the results didn't show much benefit,"
"But those areas that we did find potentially, some positive findings, they are very consistent with public health types of messages that we hear all the time. Live a healthy life, eat a good diet, stay cognitively active and engaged socially."
"...review looked at 38 trials with low to medium risk of bias that compared over-the-counter (OTC) supplements, ....placebo or other OTC interventions for preventing or delaying cognitive decline, MCI, or clinical Alzheimer-type dementia. This review showed "insufficient" evidence to recommend any OTC supplement for cognitive protection in adults with normal cognition or MCI."
"Other studies have found some evidence that following a healthy lifestyle earlier in life may help protect against dementia.... The evidence has started to mount that lifestyles can change your risk for cognitive decline and various dementias,.."
Take aways:

Living a healthy lifestyle from an early age is the only currently shown cause & effect relationship
We must hold out hope for newer investigational compounds to show a positive effect
It is important for governments & Funding bodies to support spending on AD research
Give to support Alzheimer's Research

Important Links:

This will be the 1st in a series of Blogs on Alzheimer's Disease. This has been a medical interest of mine since 1990.

If you ever wondered by Alzheimer has an apostrophe, it is because the disease is named for a German physician, Alois Alzheimer

The work in this recent article:

A Systematic Review and Meta-analysis of The Effect of Low Vitamin D on Cognition
J Am Geriatr Soc. 2017;65(10):2161-2168.
concluded: "Observational evidence demonstrates low vitamin D is related to poorer cognition; however, interventional studies are yet to show a clear benefit from vitamin D supplementation. …… lifespan studies are necessary to depict the optimal timing and duration in which repletion of vitamin D may protect against cognitive decline and dementia in aging, ….."
This is of particular interest because of the now recently confirmed errors made in the calculation of recommended daily amount (RDA) for Vitamin D.
Happy to discuss this.

With the coming Holiday Season, we will all overeat, overdrink, overindulge. Don't beat yourself up too much if this is unusual for you. If this is regular behaviour, then you need to think seriously. The image below is busy, but 2 Takeaways:
1. Healthcare costs for obese people are 25% higher than non-obese people.
2. Life Expectancy for obese people is 10 yr. less than non-obese people.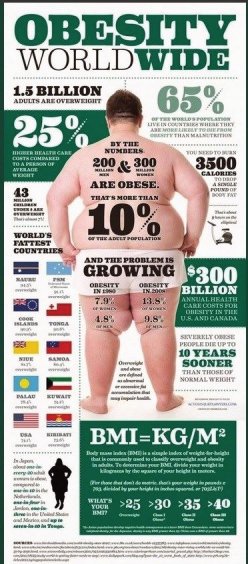 Diabetes is a global health issue. Blood Glucose levels and death by income and age groups.
Here is a link to the
pdf
document this image comes from.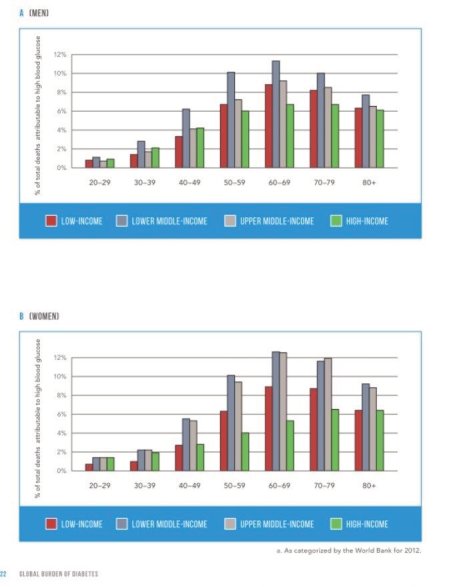 /